Before your arrival
Entry visa and regulations, housing options, translation and legalisation of documents
When you start working at our Institute you have to comply with several legally required formalities. You will soon negotiate the initial steps and the MPI-CSL will be happy to help you throughout your stay. Here you will find a short overview and further links for your first important steps.
1. Entry & Visa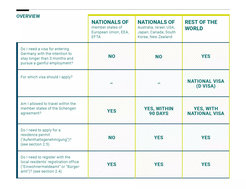 A valid passport and entry visa are necessary when coming to Ger­many. As a rule, an entry visa (with a short period of validity of 3 months) is valid for the first 90 days and issued by the German embassy in your home country, which can then be converted into a longer-term residence permit.
Your country of origin determines whether you need an entry visa or residence permit at all. For most EU citizens an ID card stating citi­zen­ship is sufficient. But in many cases of nationals from Non-EU-Member states, a visa is needed for entry into Germany.
Apply for a visa at a German diplomatic embassy in your own country at least 3 months prior to your departure date. Depending on the visa type and the country, different documents for the visa application are required. For further information about the visa application as well as the necessary documents, you should contact the German Embassy or the German Consulate in your home country. (Graph: MPI of Immunobiology and Epigenetics)
2. Pre-arrival checklist
As you prepare to leave home please be sure to have the following items with you when traveling to Germany:
Passport

or identity card valid for the entire period of your stay (driving license is not sufficient). If your national identity document is not valid for the entire time, you will have to go back to the German immigration office once it has been renewed by your country of origin.
Valid visa if applicable (If you want to stay for more than 3 months and start working at the MPI-CSL: no C visa/tour­ist visa/Schengen Visa.)

Travel health insurance

(Make sure that you have a valid travel health insurance for the time of your trip and the first few days in Germany.)
(Several) biometric photographs for your residence permit, electronic health card, German driving license etc.

Marriage certificate

and Apostille or Legaliza­tion (Both documents must be translated by a certified translation office.)
If you travel with your children: Birth certificate and if you need a visa/residence permit also the Apostille/Legaliza­tion of your children's birth certificate as well as the latest school records.
National driving license.
In case of family planning and having children: Your own birth certificate.

All university certificates

(Master/PhD).
3. Translation and Legalisation
We recommend to have legally certified copies and valid translation of your important documents (marriage certificate, birth certificate, university degrees, school reports of your children etc.), when interacting with local German authorities.
Documents in other languages need to be translated into German by a translator who has been sworn in in Germany.
4. Initial Accommodation and Housing
For your first days or weeks you can book accommodation in the Institute's guesthouse (for details please visit Guest Apartments).
The city of Freiburg with a population of about 230,000 is the fourth largest city in the Land Baden-Württemberg, Ger­many. The University, the University Medical Center, five Fraunhofer Institutes and two Max Planck Institutes make Freiburg a science city and a research hub of South-West Germany. Thus, finding permanent accommodation can be a time consuming challenge. The semesters for university students start in April and October each year. These times are especially tough for the housing market.
Where to look for flats
There are many platforms available online and offline but these listed below appear to capture the majority of properties (flats, houses, etc.) available in Freiburg.
Immobilienscout24
Leading German property website to search and hunt for apartments and houses.
Immowelt
Leading German property website to search and hunt for apartments and houses.
WG-Gesucht
Find shared flats, rooms and small flats – very popular with students in Freiburg and Germany.
Badische Zeitung
Local daily newspaper with advertisement sections on Wednesdays and Saturdays, also accessible online.
Zypresse
Zypresse is a local free newspaper and online directory containing ads – published on Wednesdays and Saturdays, copies can be found in stores throughout the city of Freiburg.
Schnapp
Another free local newspaper and online directory, published on Thursdays. It can be found in stores throughout the city of Freiburg.
Ebay Kleinanzeigen
Also worthy to have a look at… just select "Immobilien". Sometimes putting an ad yourself also helps!
HomeCompany Freiburg
HomeCompany's extensive supply of furnished objects enables professionals to react swiftly to short-term demands like work-related relocation, limited project work or external training.
Studenten-WG.de
Commission-free market for rental housing and shared apartments.
u-asta.uni-freiburg – Wohnen in Freiburg
General student committee of the university.
airbnb – Freiburg
Holiday rentals in Freiburg.
immobilo
Property search engine.
immonet
Property search engine.
wohnungsmarkt24.de
Property search engine.
Housing anywhere
Interim rent.
Vierwaen.de
Nationwide housing portal.
Studenten-Wohnung
Nationwide housing portal for students.
Vonovia
Housing service provider.
Miettraum.com
Nationwide housing portal.
univillage – Freiburg
Nationwide housing portal.
---
Bulletin boards
In refectories, cafeterias, institutes, copy shops and in the university library you will find bulletin boards with private rental offers. You might find accommodation there.
---
Holiday flats and temporary accommodation
HomeCompany Freiburg
Oberau 79, 79102 Freiburg
+49 (0)761 73 33 337 freiburg@homecompany.de
Green-City Boarding House
Obere Hardtstr. 14–16, 79114 Freiburg
+ 49 (0)761 45 98 79 21 info@greencity-boarding.de
Black Forest Hostel
Kartäuserstr. 33, 791020 Freiburg
+49 (0)761 88 17 870 backpacker@blackforest-hostel.de
FT Hotel & Restaurant
Schwarzwaldstr. 181, 79117 Freiburg
+49 (0)761 15 14 66 60 info@ft-hotel.de
THE FIZZ Freiburg Mitte
Habsburgerstraße 132–134, 79104 Freiburg
+49 (0)30 40 36709 20 sales.freiburg@the-fizz.com
► Minimal rental period: six months (also possible shorter if a new tenant is found); April–September (summer semester) und October–March (winter semester).
Campo Novo
Zollhallenstraße 12, 798106 Freiburg
+49 (0)174 96 78 967
---
Dormitories funded by denominational organisations
Katholische Studierendenwohnheime
Studierendenwohnheim Falkenbergerstraße
---
Short-term accommodation
---
"Housing for Help" is a program of the Studierendenwerk that brings together students who are looking for a room and landlords/landladies who need help in the household in shared flats.
More
If you need more information on housing expenses, rental contracts, where to register for utilities such as electricity, internet, TV, waste removal and recycling, broadcast license fee ("Rundfunkbeitrag") and many more topics, please contact Annika Hampel (a.hampel@csl.mpg.de).