Virtual Reality and Crime Research
Annual Meeting of the American Society of Criminology
We are very much looking forward to the trip to Philadelphia for the Annual Meeting of the American Society of Criminology. Visit our booth, where we will showcase the novel virtual reality environments currently being used in our research. We're excited to share these innovations with the broader research community. 
"A Virtual Night Out"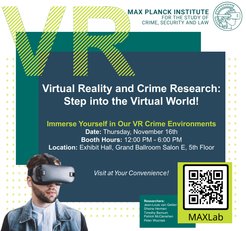 This project investigates how emotions influence decision-making in criminal contexts. Specifically, our researchers utilize this cutting-edge 360° virtual scenario to explore how different emotions, such as anger, fear, and excitement, impact decision-making during interpersonal violence situations. In this virtual Irish Pub setting, participants encounter various potentially risky scenarios intentionally designed to evoke distinct emotional responses, such as insults from strangers or witnessing harassment of a woman by another bar patron. Through this immersive approach, our researchers will explore how situational emotional experiences affect traditional decision-making processes in criminal contexts and subsequently influence behaviors related to violence, victimization, and guardianship.

"The Virtual Burglary Project"
For this project, we developed virtual residential environments to examine burglar behavior. Within this VR environment, we experimentally manipulate various features, including factors designed to deter, like lighting and noises, and factors meant to attract, such as indications of wealth. Recently, this unique environment was utilized to conduct a study within a prison setting, involving a sample of convicted burglars. These "experts" navigated the 3-D residential area within the VR environment, simulating the experience of planning a burglary. The study's objective is to analyze how situational factors influence the decision-making processes of burglars. To achieve this, we collect data through eye-tracking technology, examine spatial patterns, utilize survey responses, and conduct detailed interviews with the participants. Our goal is to utilize this VR environment gain a better understanding of whether burglars are aware of and sensitive to these situational factors, with the aim of informing future crime prevention efforts.

Step into the Virtual World! Meet us on November 16th from 12:00–6:00pm in the Philadelphia Marriott Downtown, Exhibit Hall (Grand Ballroom Salon E), and immerse yourself in our Virtual Reality Crime Environments.